Windows Sandbox cannot be installed, Virtualization support is disabled in the firmware
This article will guide you if you receive an error message Windows Sandbox cannot be installed, virtualization support is disabled in the firmware in Windows 10. When you enable Windows Sandbox in Control Panel, you may find that the Windows Sandbox entry is grayed out and this error message is displayed. Here's what you can do to fix the problem.
Windows Sandbox cannot be installed, virtualization support is disabled in the firmware
Windows Sandbox is a secure environment (Windows inside Windows) in which you can run and test applications securely without allowing them access to the physical machine. Lifetime of applications as long as the sandbox continues to operate. That said, to run Sandbox you need virtualization support, but if it is not enabled at the firmware level (hardware virtualization) it will not work.
The error message is obvious and the only way to install Windows Sandbox is to enable virtualization at the firmware level. If in doubt, read our guide to find out if your computer supports it.
You can also quickly figure it out by typing "msinfo32" in the Run prompt (Win + R) and then pressing the Enter key. It will reveal the system information and final virtualization details will be available. If all the information about Hyper-V is yes and the only virtualization enabled in the firmware is no, you should only enable it at the hardware level.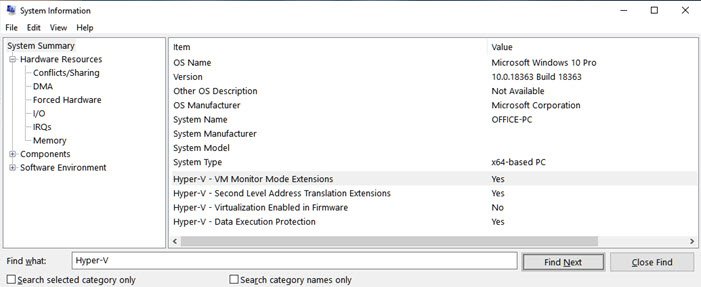 Turn on Intel VT-x AMD-V aka Hardware Virtualization in BIOS or UEFI firmware
Depending on your laptop or desktop model, find a way to boot into the BIOS. Usually these are the F2 or Del keys. If you can't find it, the other way to access the firmware would be through recovery.
Go to Settings> Update & recovery> Recovery> Restart now. In recovery, select Troubleshoot> Advanced Tools> UEFI Firmware Settings.
The BIOS will have the hardware virtualization listed as Virtualization or something similar.
You will need to research the term that can help you determine which menu to activate. Once in the BIOS, follow the steps.
Open the advanced processor configuration or the Chipset section. Locate virtualization settings and find a setting that can enable virtualization. This can be under the Processor menu, Chiupsert or even Advanced Chipset.
Once you find the setting, use the keyboard to activate the settings. Make sure to save and exit.
Restart the computer, then go back to installing Virtual Sandbox, but this time it won't be grayed out. Instead, you can check the box and install it.